"The Trimble R12 is saving us
an hour a day, per crew."


—




Kevin King - Field Operations Manager, Tulloch Geomatics
Get the game-changing Trimble R12(i) GNSS Receiver
EXCLUSIVELY AT CANSEL
With Trimble ProPoint™ GNSS technology and new Trimble TIP™ tilt compensation, the Trimble R12(i) reaches new angles in productivity.
The Trimble R12(i) GNSS receiver delivers unmatched speed and accuracy to boost your productivity like never before. With improved performance in challenging GNSS conditions and robust IMU-based tilt compensation that lets you forget about leveling the pole, you'll get more done faster than you thought possible.
Join these leading companies in maximizing their in-field productivity.
"Since acquiring R12i units in April, our return on investment has been exceptional. With our new receivers, we've increased our productivity by 30% on conventional surveys and property assessments. Surveys in wooded areas require only half the time compared to our old R8/R10 receivers." Patrice Drolet - Land Surveyor, Caouette Thériault et Renaud inc. (Roberval, QC)
"The Trimble R12 is saving us an hour a day, per crew." Kevin King - Field Operations Manager, Tulloch Geomatics (Thessalon, ON)
"Since acquiring the Trimble R12 receiver we've been able to perform surveys efficiently in densely treed areas as well as collect accurate measurements near buildings, all thanks to the new Pro-Point and TIP technologies built into the receiver." DJ McMoil - Survey Manager and Coordinator, Tetra Tech (Calgary, AB)
"Pro-Point and TIP Technology in the R12i has drastically improved the productivity on our pipeline projects." Chris Kizuik - President, Apex Geomatics Construction Surveyors Ltd. (Calgary, AB)
"The Trimble R12 has been excellent for us. We get fast fixes and we are able to stake lines accurately under tree canopy." Warren Wirth - Senior Crew Chief | Field Supervisor, Global Raymac (Calgary, AB)
"Since the Trimble R12 can be set up faster, and in previously inaccessible locations, we're able to achieve significant productivity gains." David Desgagné - Buyer and Survey Manager, Roxboro Excavation inc. (Dorval, QC)
"The Trimble R12i has pushed the boundaries of GNSS surveying when it comes to achieving quality results in adverse locations where other methods of data collection are unsuitable." Tyler Unger - Global Raymac Surveys Inc. (Calgary, AB)
"Before purchasing the R12i, GPS was primarily utilized for survey control points for usage with our robotic total station. Several of our mandates are now exclusively completed using GPS. The R12i is a great evolution and we simply couldn't live without it." Dominic Juteau - Operations Manager, Groupe BJG inc. (Sainte-Adèle, QC)
"The R12i has helped us significantly increase our efficiency in the field. Conventional survey work has been greatly reduced, which also explains the accelerated return on our investment!" Félix Tremblay - Land Surveyor, Chiasson & Thomas inc. (Chicoutimi, QC)
"With our R12i GPS receiver, we're able to measure the center of utility poles and hedges with a tilted GPS; it's awesome! We also use it to survey the corners of neighbouring buildings such as sheds and main structures, thus avoiding unnecessary setups next door. The R12i helps us save approximately 20-25% of field time per day. That's huge!" Guillaume Meunier - Land Surveyor, Arpenteurs-Géomètres Mercier Meunier inc. (Sherbrooke, QC)
"Just the fact that we no longer need to level the rod increases our productivity. Imagine the time savings with chainages every 20 m on a 3 km road!" Benjamin Hébert - Surveyor, Sintra Division Estrie (Canton-de-Hatley, QC)
"The R12i has helped us increase our productivity immensely, which has helped with the labour shortage... We can carry out our projects faster, despite the increased workload brought on by COVID... The technology was easy to implement and we noticed a difference immediately." Jonathan Maltais - Associate Land Surveyor, Laberge Guérin Arpenteurs-Géomètres (La Baie, QC)
Use the R12(i) in challenging environments with Trimble TIP™ tilt compensation technology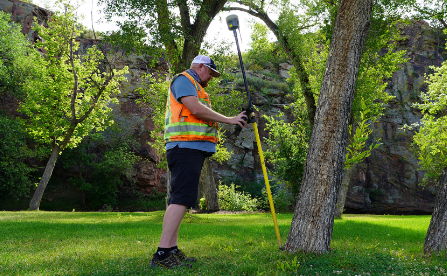 IMU-based tilt compensation
—
Calibration-free Inertial Measurement Unit based tilt compensation with immunity to magnetic interference.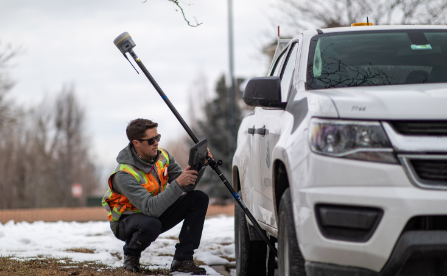 Reach hard to access points
—
Easily obtain accurate measurements on obstructed points like building and property corners or utility inverts.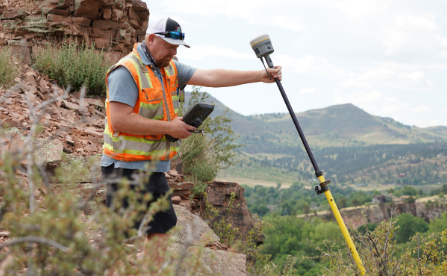 Stay out of harm's way
—
Safely capture points in hazardous locations like the edge of an open excavation or on roadways.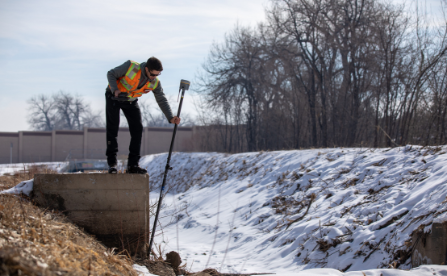 Built-in automatic integrity monitoring
—
Have total trust in your system with real-time IMU anomaly detection and alerts.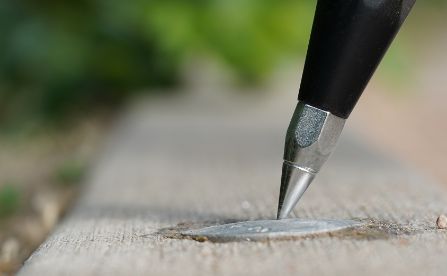 Watch the pole tip not the bubble
—
On-screen stakeout instructions guide the pole tip directly to the design point. No need to repeatedly adjust the pole tip position and re-level the receiver when measuring points.

Trimble R12(i) features at a glance

Trimble ProPoint GNSS Technology
Superior performance in degraded GNSS conditions, with groundbreaking signal management that leverages the latest developments in GNSS signals and Trimble receiver hardware

Trimble TIP Tilt Compensation Technology
Inertial Measurement Unit (IMU) based tilt compensation for accurate laying out and measuring points without precisely leveling the pole

Trimble CenterPoint RTX® Correction Service
Provides RTK level precision worldwide without the need for a base station or VRS network




Trimble 360 Technology
672 channels with support for all available and future GNSS signals, and improved protection from interference and spoofed signals

Trimble xFill® Technology
Keeps you working in radio and cellular black spots with continuous RTK coverage


Augmented Reality Ready
Bring geospatial data to life and visualize your 3D data in the real world with Trimble SiteVision™ on the Trimble TSC7 controller
*Challenging GNSS environments are locations where the receiver has sufficient satellite availability to achieve minimum accuracy requirements, but where the signal may be partly obstructed by and/or reflected off of trees, buildings, and other objects. Actual results may vary based on user's geographic location and atmospheric activity, scintillation levels, GNSS constellation health and availability, and level of multipath and signal occlusion.
Create a complete Trimble R12(i) solution
Pair the Trimble R12(i) with a rugged Trimble field controller running Trimble Access™ 2020 field software for a complete workflow solution. Back in the office, process your data with TBC to create high-quality deliverables.